Did you land on this post while searching for ways to make poetry less painful…more exciting…more interactive…more creative? Maybe you're starting your first poetry unit, or maybe you need a way to engage students who claim to dislike it. In this post, you'll find nine fun poetry lessons for secondary.
1. Creative Writing
Help students study the importance of text structure as they write nonfiction-inspired poetry. Try blending elements of prose, verse, picture books, and concrete poetry to help students understand the power of word choice and aesthetics.
This would also be an opportune time to fit in the concepts of rhythm and rhyme. Studying how words are arranged can help students understand the impact of author's craft on the overall reader's experience.
In this activity, students read a nonfiction text (selected by you or by them!), identify their key takeaways, and respond creatively using poetry! Read more about this lesson plan here.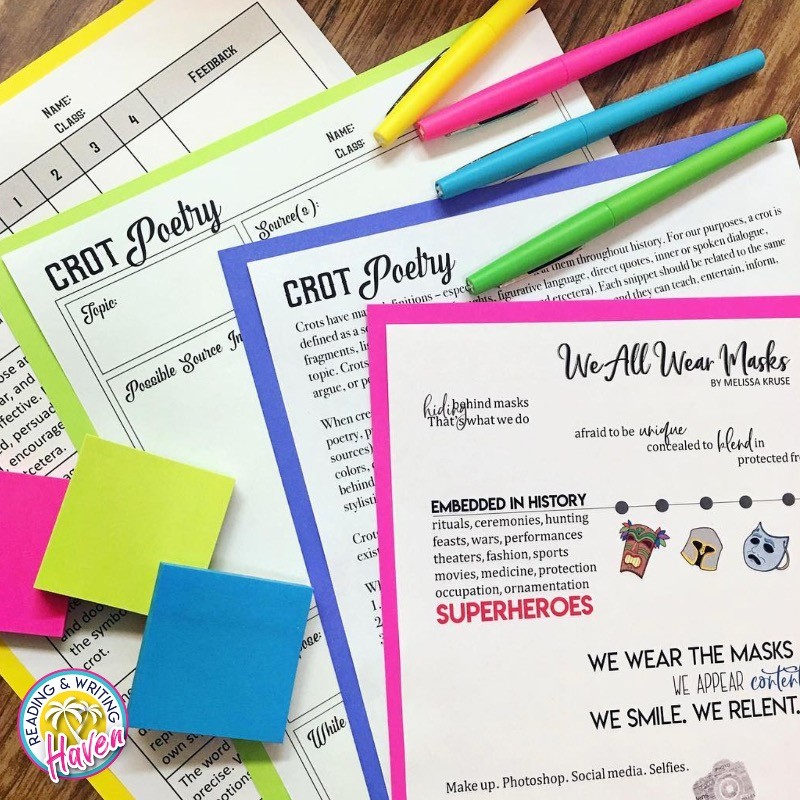 2. Music Analysis
Poetry lessons wouldn't be complete without music lyric analysis!
I incorporate music into every poetry unit because it makes the genre more relevant to reluctant students. Reading poetry is an opportunity to practice analysis and annotation skills. Songs change in popularity, and each class has a different culture, which should be taken into consideration when selecting music.
One of my favorite lessons using poetry is when I introduce the presence of figurative language in verse with the song "My Heart's a Stereo." It's a fun way to explore the concept of an extended metaphor. Follow up this lesson with the poem "All the World's a Stage," which is part of As You Like It.
Use this free song analysis activity to guide your discussion.
3. Mood and Tone
Mood and tone can be difficult concepts for students to grasp. I try to re-visit the concepts multiple times throughout the year with various types of literature.
Visuals help! For example, analyze mood and tone by comparing the way the author plays with word choice to the way an equalizer adjusts the sound frequencies of a song.
This engaging poetry lesson requires students to think critically and symbolically about how mood is represented by color and how tone is controlled through the equalizer. The poet's diction is the focal point of this creative task, which can be applied to any poem. Want a recommendation? Try using it with "The Highwayman."
4. Picture Inspiration
Want students to write poetry? Pictures are an excellent hook. Previously, I wrote about 13 ways pictures can inspire students to write poetry. You can find detailed ideas in that post.
Consider: wordless picture books, old family photos, cartoon strips, social media. Texting couplets are also engaging. The possibilities are inspiring.
Download the picture-based poetry resource featured below to help differentiate poetry writing for your students.
5. Close Reading
Looking for more traditional poetry lessons? Sometimes we kill a poem by asking students to read it and analyze it for everything under the sun. I've had more luck with close reading and poetry when I focus on one specific target.
With this lesson, students read and re-read short poems, analyzing them through a specific lens. For instance, how does the poet's word choice impact the reader's overall experience? How do the connotations and denotations of important words establish the mood?
6. Paired Texts
Surprise your students by pairing poems with nontraditional texts, like short films. Here are five recommended pairings to get students thinking. What I love about this poetry lesson is how it incorporates diverse perspectives, which increases the rigor. As a result, students typically come up with some impressive responses.
Students enjoy poetry more when they can connect the themes to their own lives and to other modern literature. That's an important benefit of approaching poetry through a paired-text analysis approach.
7. Play Games
Once students have been introduced to the terminology you are using during your poetry unit, don't be afraid to give them a poem and turn them loose with a game. It's a social way to think critically about a poem, and as they talk, you have the freedom to roam around and overhear common misconceptions. In doing so, you'll have a better idea of what concepts might require a follow-up lesson.
This poetry challenge covers structure, figurative language, types of poems, and sound devices. Students can play it with many different poems. Not sure they're ready for independent play? Play as a class by projecting the game and dividing the students into groups.
Looking for a figurative language game students can use to practice literary terms? Try figurative language Truth or Dare, or, for a more advanced class – Get Schooled!
8. Re-Read with Color
This reading strategy is fun, and it can be used with any text. It's one I came up with as I was brainstorming ways to pull the main idea from a text and then get students to see how that idea is developed by smaller details.
Next time you want students to process important information from a poem, try asking them to re-read with color. Basically, students will pull out the central idea, then text evidence, and finally connect the poem to life. You can give students different prompts as well.
Each time they read through the poem, they look closely at another layer of meaning.

9. Write First
I'm often surprised at how much more willing my students are to participate when I've given them an opportunity to process their thoughts in writing before a class discussion. If you are seeking higher engagement, try giving students some time to reflect on questions before engaging with peers.
These poetry journal prompts each focus on a different important concept and can be used with any poem. Try using them after a class discussion as a way for students to synthesize their opinions.
Poetry lessons can be fun. Spice up your next poetry unit with some of these activities, and drop your own favorite approaches in the comments.
---
RELATED RESOURCE
Grab this creative poetry analysis resource to spice up your existing unit. Use these analytical graphic organizers and written response tools to get your students thinking critically about any song or poem.