Inside: Is your choice reading program feeling stale? Are the independent reading activities falling flat? We can engage students and keep book love fresh by weaving in new ideas from time to time!   
Independent reading programs can be the life of your English Language Arts classroom party. Books truly can be magical for students and teachers to share together and to read independently. When inspiring stories are ubiquitous in our classrooms, vibrant discussions help to strengthen the overall community and culture.
Whether you're just dipping your toes into independent reading or looking for ways to freshen up your existing approach, you'll find lots of ideas here! If you've been around my blog or my Instagram account for long, you probably already know my strong distaste for reading logs and accelerated reader. Compliance-driven accountability tools create a negative space between students, books, and teachers.
In this post, you won't find unnecessary strategies that frustrate or bore readers. Instead, you'll find over a dozen fresh ideas for bringing healthy discussion and community to your independent reading program.
Previously, I've written about assignments we can use to assess students' progress with reading literature standards when it comes to their independent reading books. But, beyond standards assessment, I find little to no value in layers of accountability that feel like work just so we can "make sure" students are reading.
If we establish a positive reading culture, students will read. Let's check out the activities. Keep in mind, you won't find predictable, structured bell-ringer type approaches here. I like to keep it fresh because that's my style. Also, variety drives away boredom and unleashes creativity.
For the purpose of clarification, independent reading refers to when students are reading a book of their own choosing. They may be using an audiobook or even sharing the book with parents, but students are reading the book either in class or at home because it's a book they have chosen to read. Typically, this work is a meaningful extension of additional required classroom texts.
1:  ENTRANCE QUESTIONS
Entrance questions can be a fun way to open up thinking. We can pose these questions when students walk into class or after independent reading time. The purpose of an entrance question is to get students talking about their books, which contributes to a social reading environment. Indirectly, students will be getting ideas of books they may want to read in the future, and those who are answering the questions will be reflecting on what they are currently reading.
Consider these possible examples:
Find the most important word from the last 2 pages you read. Why is it important to the story?
What is the setting of your book? Does the protagonist enjoy living in this setting? How do you know? How does the setting cause limitations or provide freedom for the characters?
Entrance questions provide a thin layer of accountability. Students who are not reading their books will have a difficult time coming up with authentic answers to the prompts.
You can find more entrance prompts like this here.
2:  SKILL APPLICATION
One of the best ways we can bridge the gap between whole class texts and independent reading activities is to ask students to apply the skills we are teaching in a whole-group setting to their choice reading books.
For example, if you teach students a five sentence summary strategy using a short whole-class text, ask them to apply their summarizing skills to their independent reading book. Analyzing figurative language as a class? Why not extend that practice to independent reading? Making inferences about characters? Same thing.
I like to use scaffolding tools like graphic organizers and bookmarks to make a seamless connection between whole-class texts and independent reading books. I recommend modeling with the same tools students will be using on their own.
Reluctant readers will be more likely to invest in their independent reading books if they feel the books are an important part of their learning process.
3:  READING CONFERENCES
Reading conferences are opportunities to get to know readers. During a true reading conference, the teacher sits with each student to have quick conversations about how students are approaching their independent reading books. We can ask students summary questions, inference questions, analysis questions, and more.
Reading conferences are another opportunity to bridge the lessons and skills we are working on as a whole class with the books students are reading on their own. Many secondary teachers stray away from reading conferences because we have so many students and a short amount of time to meet with them.
I've used five-minute reading conferences during independent reading time. This means I am able to conference with two students each day, and it takes me two to three weeks to make it through the whole student roster. That's okay! Meeting with students one-on-one allows us to differentiate the reading skills and strategies we want them to work on, and it helps to build relationships with them.
Plus, if we can tell they aren't really engaging with their book, we can use this time to help them find a book they will enjoy more.
If you aren't ready to embrace the one-on-one reading conferences approach, give small group conferences a try! Meet with three to four students at a time to discuss a reading strategy (predicting, inferring, visualizing). We can talk about how dialogue impacts pace or how the author uses figurative language to engage readers.
4: BOOK CHECK-INS
In Reading in the Wild, Donalyn Miller recommends a status of the class, which is where we touch base with each student to inquire about their reading progress. When I say your name, share out what page you're on and something interesting about your reading! We can do this while conferring one-on-one, when taking attendance, as we circulate the room during independent reading, or in small group format when sharing about our reading.
However, Pernille Ripp recommends a second option for reading checks, which is asking students to sign in at the beginning of each class by updating the current page number of their independent reading book. We can streamline this process with a digital or print whole class book check-in sheet that can later be analyzed for trends (pictured below).
At the end of a week or month, we can ask students to total the number of pages they have read and submit that number via a Google Form. This is data we can use to reflect on as a class.
5: CASUAL BOOK TALKS
What are people typically really excited to do after reading something super good? Tell others, of course! That's why informal book talks are an engaging way to open up authentic social reading situations.
After independent reading time, ask for volunteers to share something exciting, moving, or humorous from what they've read, a favorite line or passage, or an impressive example of author's style. I consider these informal book talks, but I don't recommend titling them as such to students because it increases the formality.
Just ask who wants to share, and let a few voices shine. To make sure everyone has an opportunity to participate, keep track of who has already shared. When you run out of volunteers and still have students who haven't shared, ask them questions about their book.
"Jaclyn, I see you are reading ___. What happened in your reading today?" 
"Nathan, what's your favorite part of the book you are currently reading?"
The expectation to share our reading is a gentle reminder to students: You need to be reading. It will be your turn soon. This layer of accountability is one I'm comfortable with because sharing good books is an authentic reading practice.
6:  READING SPRINTS
Here's another after-independent reading activity, and this one engages the whole class! Reading sprints are when students answer a standards-aligned question about their book directly following reading time. They jot their thoughts on a sticky note and then share it on the board.
As a teacher, there are multiple ways we can lead short or long on-the-spot discussions about literature skills using these sticky note collections. Students' responses to questions will give us insights as to what skills we need to hone.
Reading sprints keep the spirit of community reading alive in our class and allow us to tie independent reading to whole-class reading lessons seamlessly!
7:  READING RATE GOALS
In 180 Days, Kelly Gallagher and Penny Kittle recommend having students set their own reading goals based on their reading rates. To do this, have students read for ten minutes. They should record the page they begin on and the page they end on. With that number, they will multiply by 6 to find the number of pages they can read per hour. Then, students should set a goal for the number of pages they want to read in a week.
Gallagher and Kittle suggest teachers could grade students upon whether or not they meet their self-determined goal, but my own preference is to avoid grading with independent reading as much as possible. There have been plenty of times I haven't met my own goals for finishing a book or reading as much as I should have in a month, and I've needed to give myself some grace.
Of course, text complexity plays a role in students' reading rates, and they need to be taught to set goals that are appropriate for the text they are reading. Students can also set goals for engagement, environment, stamina, and variety of reading.
8:  FIRST PAGE SNEAK PEAKS
Hooking students on good books is the first step toward a thriving independent reading program. Over the years, I've noticed the most engaging books often have high-interest first pages.
So…let's take advantage of some sneak peaks! Either with physical books or digitally, have students read the first page, record their thoughts, share their thinking with a small group.
This activity is not necessarily an alternative to a reading log, but it is excellent for building our "to read" lists and promoting a positive reading culture.
9:  VIEWING PARTIES
Viewing parties have recently become popular because they enable groups of people to watch videos together even when they're apart. When it comes to independent reading, why not host trailer viewing parties? Students can enjoy the trailers as they sit in our classrooms, or they can watch remotely.
Viewing parties are yet another way to share amazing book recommendations with others. Students can recommend book trailers they think their peers would enjoy, and teachers can generate book trailer lists based on weekly or monthly themes.
Why not host monthly viewing parties as a way to recap First Chapter Friday books (here's a list from a friend!) you have previewed or other excerpts you've shared? They're a friendly reminder that those books are still available for the reading!
Get new books on students' radar by finding authors who are reading excerpts from their own books. Or, invite authors on Twitter like Jennifer Nielson to host a virtual book reading or Q and A with your class.
10:  GENRE EXPOSURE
I first began introducing literary genres slowly throughout the year when I read The Book Whisperer years ago. Over time, I saw the value of this approach. While older students generally already have a specific taste for certain genres, exposing them to a variety of them throughout the year helped students to expand their palettes.
Some specific ideas…
Introduce new genres with a brief set of notes. (You can find mine here.) Discuss common characteristics of that genre. Read excerpts from those genres…first pages, first chapters, high-interest passages, and back covers. You can also hold a genre sorting activity to get more books in students' hands.
11:  COLLECTIVE READING WALLS
After students finish a book, have them fill out a book spine and add it to your classroom decor! This simple activity gives both teachers and students a visual for community reading volume. The trickiest part of using the book spine strategy is remembering to have students fill them out! So, I recommend building in a regular space for this to happen.
Choose a day of the week, and write it into your lesson plans for that day! On a bi-weekly or monthly basis, give students 5 to 10 minutes to complete their book spines in class and add them to the wall if you desire.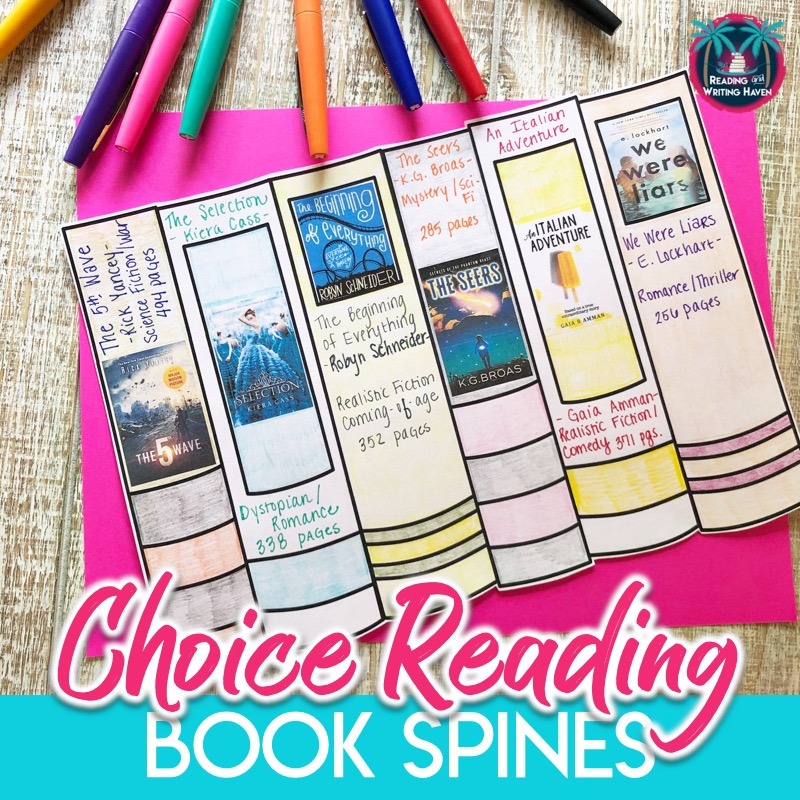 12:  READING LADDERS
Reading ladders are my absolute favorite alternative to the reading log! They still allow space for students to record what they've read. But they feel less intrusive. Plus, reading ladders are convenient for discussing book diet, reading volume, and reading identity.
With a reading ladder, you start with a bookshelf. Then, choose how you want to label each shelf. I often choose to label shelves with words like "just right," "entertaining," "challenging," "easy," and "frustrating." This labeling system helps readers to identify the complexity of books they are reading. We always discuss how it's okay to read a picture book that is easy. And, it's okay to read a classic that is challenging! The key is to know what you are reading and why.
Here are my my print and digital reading ladders.
13:  READING DISPLAYS
Another way we can make reading a visible part of our classrooms is through bookish displays. It's hard for students to forget about reading when they are surrounded by high-interest novels! Reading displays are a non-invasive way to track collective reading.
Display novels you want to draw attention to at the front of your classroom or face-out on your library shelves. Consider having students contribute to a class bulletin board. Here are some bookish bulletin board ideas I've created using social media concepts.
14:  READING CHALLENGES
Engage readers with challenges to get them reading more often! Try challenges with unexpected twists. Read under a homemade fort, in a hammock, or on vacation. Expand your genre diet by dipping your toes into something new. Recommend books to a friend or read something recommended by a coach!
Format reading challenges into a tic-tac-toe choice board or BINGO board and have them submit their titles whenever they finish a certain number of novels.
You can also work with students to create individual or whole-class challenges to read a certain number of pages each week or month. Students can fill out a simple Google Form at the end of the time period to indicate how many pages they read.
15:  READING JOURNALS
After reading, we can ask students to write about what they've read. Connecting reading and writing is a healthy habit that encourages reflection and creativity. When students see literature from an author's point of view or when they approach their own writing to apply the literature techniques they've analyzed, students are empowered!
Reading journals (whether recorded digitally or in a reader's notebook) are one way to build in standards-aligned accountability. We can hit both reading and writing standards! Here are two sets of writing journals you can use to get started with journaling about reading:  Set 1 and Set 2.
Want to prioritize the questions but cut the writing? Readers naturally discuss what they are reading with others! Promote a book club type culture (even when students are all reading different books!) by keeping high-interest discussion prompts or more basic comprehension-style questions handy.
The KEY:  Every good idea is only good in moderation.
As with reading logs, any and all of these tools could be used in a way that negatively impacts our readers…including using them too often or treating them as "I gotchas." It's ongoing work and reflection to identify whether what we are asking of students is drawing them closer to reading and further on their reading journeys or whether it is doing the opposite.
If we really want to know whether our students are reading, all we need it do is watch them. Are they devouring books? Sharing their favorite parts? Carrying books with them? Flipping pages with eyes tracking during independent reading time? These are authentic indications of reading. Best of all, they don't add anything to our plates, and they won't turn our readers away from books.