Looking for high-interest young adult novels to add to your classroom library? You'll find some of my favorites here.
Closing in on the end of 2019, I was scrolling through my Instagram feed, reflecting on what I have read this year. In doing so, I came to some realizations about myself as a reader…
I read more than I thought I had in 2019!
I'm reading much more fiction than nonfiction, but within fiction, the genres are somewhat diversified.
I've made it a priority to bring a book with me wherever I go, and it's increased my reading volume
Most of the books I've read are ones that friends have recommended to me!
My cell phone is the greatest distraction I have that pulls me away from reading.
THE IMPORTANCE OF READER SELF-REFLECTION
This train of thought had me thinking. How often do we give students time to reflect on who they are as readers? Helping readers to set goals and create a reading habit is important, but a valuable part of creating a literacy culture is celebrating students' journeys with books.
Here's a free activity you can use to help students self-reflect. Use it at the end of a calendar year or school year, and make sure to share your own epiphanies about your year in reading with students. These conversations solidify students' confidence in their progress, allow you to get to know your readers better, provide natural platforms for book recommendations, and enhance the bookish culture of your classroom.
HIGH-INTEREST YOUNG ADULT LITERATURE
As I reflected on books I've read this year, I decided I'd compile some of my favorites in a blog post. Finding classroom library titles that are high-interest and appropriate for students is time consuming. Below, you'll find a list of high-interest young adult novels I would feel comfortable adding to my own classroom library, along with grade-level recommendations and a couple reasons why I love them.
1. The Graveyard Book by Neil Gaiman
It's not normal to live in a graveyard, be raised by ghosts, or have a guardian who belongs neither to the world of the living nor the dead. Yet, that's what happens to the protagonist of The Graveyard Book, who is a normal-ish boy who goes by the name Nobody. I recommend this one for middle and high school. With intriguing pictures and a spooky setting, it's an excellent book for reluctant readers. Use it to model inferring.
2. When by Victoria Laurie
I recommend this one for grades eight and up, mainly because of a few descriptions of murder scenes. It flies off our our library shelves and is always an easy one to recommend to students. The protagonist has a unique ability to read death dates on people's forehead, which leads into a thrilling, quick-paced storyline. I couldn't put it down.
3. Where the Crawdads Sing by Delia Owens
This is one of those books that you intentionally read slowly…because you don't want it to end. It's a murder mystery and coming of age story that is beautifully painful to read. With some mature content, I'd recommend this book for grades ten and up. The author's writing style is absolutely captivating, and the theme transcends time and location. It would be simple to pull short excerpts to use in writing workshop with younger grades.
4. The False Prince by Jennifer Nielsen
A friend told me I had to read this book, and it's quite possibly the best one I dove into this year. The plot is intense, the twist is unbelievable, and you'll be rooting for the protagonist the whole time. The genre is an intersting blend of dystopian, historical fiction, and fantasy. I recommend this book for middle and high school. Our seventh graders cannot put it down!
5. Everything, Everything by Nicola Yoon
This is a refreshing, light read that I'd recommend for high school students, mainly because of a romantic relationship that blossoms toward the end of the book. The main character has a very serious condition that requires her to be stuck inside her germ-proofed house all day, every day. However, in this book (as with some others on this list), not everything is as it seems!
6. The Tattooist of Auschwitz by Heather Morris
This novel is a more mature read, so I think it's better fitting for high school students that middle grades. It's based on interviews conducted with a Holocaust survivor and is full of hope, courage, and a love story that parallels the main plot. I enjoy WWII stories, and the unique perspective of this book did not disappoint.
7. Blended by Sharon Draper
What does it feel like to live two lives? The protagonist in this novel is torn between two worlds. Isabella is dealing with divorced parents, switching houses every week, and trying to find her identity with one white parent and one black, amidst the turmoil of adolescence. This book is perfect for the middle grades and is full of teaching opportunities for language (grammar and vocabulary) mini lessons.
8. The Program by Suzanne Young
A real sucker for dystopian novels, this one pulled me in quickly. I read the whole thing in a matter of a couple sittings. If your students enjoy books like The Hunger Games, Matched, and Divergent, they will probably enjoy The Program. One cautionary note. The overarching conflict in this book is an international suicide epidemic, so we need to be mindful when recommending this one, and I'd definitely say it's more fitting for high school than middle school.
9. Love that Dog by Sharon Creech
A great book for readers of all ages, this one will make you both laugh and cry. It's such a quick read, but it's an excellent example of why we need to read slowly and savor the author's words. This novel is written as a poem, and readers will take more away from the reading experience if they take time to research the classic poems the author alludes to in the text. Love that Dog is great for teaching allusions, imagery, tone, and is full of other reading and writing mini lesson topics.
10. Grounded by Megan Morrison
For the fairy tale, adventure-seekers in your classroom, Grounded is a high-interest recommendation. It's a fractured fairy tale that is easy to read. The protagonist is under a type of spell and thinks her guardian, the Witch who keeps her locked in a tower, is pure. When Rapunzel meets Jack and her feet touch the ground for the first time, readers travel with her on an action-packed, perilous journey. This book is fitting for grades six through nine.
I hope this list of high-interest young adult novels helps you to find titles that would be appropriate for your classroom library. Please share – what books would you recommend to others? Tell us about them in the comments.
READ NEXT:
---
RELATED RESOURCES:
Have your students been reading high-interest young adult novels? Add them to a community of readers display – a wall, bulletin board, or door! Use these book spines to get started.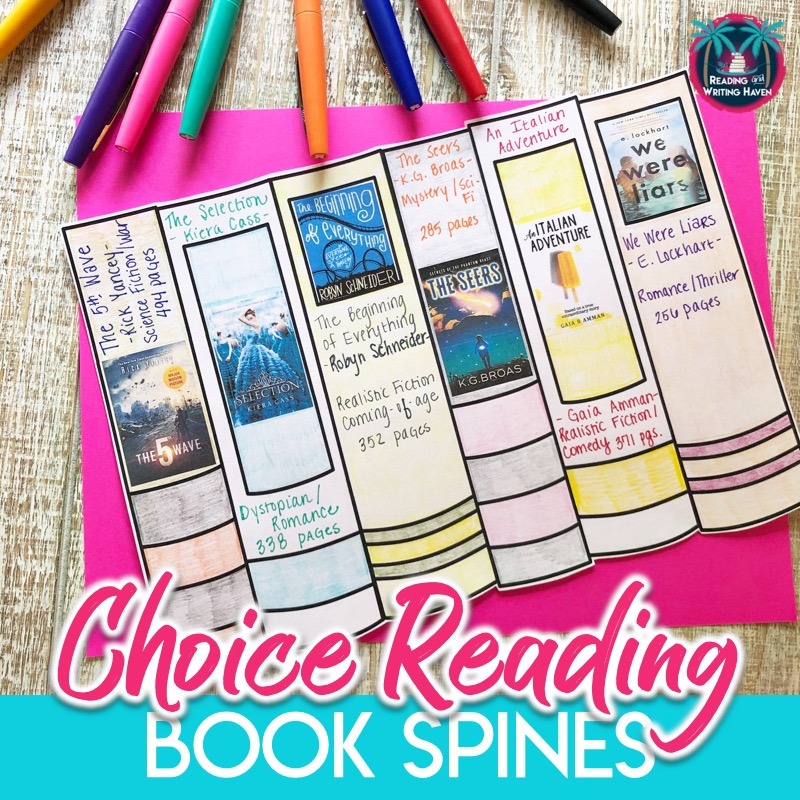 Help students track the high-interest young adult novels they are reading…what they have enjoyed as well as what they haven't. Also, what genres they've read. And, how much they are challenging themselves with their choice reading. This graphic organizer is a unique twist on a reading log and will help students visually track their reading diet. Use it in a binder, folder, or reader's notebook.