One of the most frustrating aspects of teaching in today's world is the cheating epidemic. There's nothing more irritating than getting halfway through grading a large stack of papers only to realize some students cheated on the assignment. There's really not much point in teachers grading work that has a high likelihood of having been copied or otherwise unethically completed. So. What is a teacher to do? We need to be able to assess students. Why do students cheat on homework, and how can we address it?
Like most new teachers, I learned the hard way over the course of many years of teaching that it is possible to reduce cheating on homework, if not completely prevent it. Here are six suggestions to keep your students honest and to keep yourself sane.
ASSIGN LESS HOMEWORK
One of the reasons students cheat on homework is because they are overwhelmed. I remember vividly what it felt like to be a high school student in honors classes with multiple extracurricular activities on my plate. Other teens have after school jobs to help support their families, and some don't have a home environment that is conducive to studying.
While cheating is never excusable under any circumstances, it does help to walk a mile in our students' shoes. If they are consistently making the decision to cheat, it might be time to reduce the amount of homework we are assigning.
I used to give homework every night – especially to my advanced students. I wanted to push them. Instead, I stressed them out. They wanted so badly to be in the Top 10 at graduation that they would do whatever they needed to do in order to complete their assignments on time – even if that meant cheating.
When assigning homework, consider the at-home support, maturity, and outside-of-school commitments involved. Think about the kind of school and home balance you would want for your own children. Go with that.
PROVIDE CLASS TIME
Allowing students time in class to get started on their assignments seems to curb cheating to some extent. When students have class time, they are able to knock out part of the assignment, which leaves less to fret over later. Additionally, it gives them an opportunity to ask questions.
When students are confused while completing assignments at home, they often seek "help" from a friend instead of going in early the next morning to request guidance from the teacher. Often, completing a portion of a homework assignment in class gives students the confidence that they can do it successfully on their own. Plus, it provides the social aspect of learning that many students crave. Instead of fighting cheating outside of class, we can allow students to work in pairs or small groups in class to learn from each other.
Plus, to prevent students from wanting to cheat on homework, we can extend the time we allow them to complete it. Maybe students would work better if they have multiple nights to choose among options on a choice board. Home schedules can be busy, so building in some flexibility to the timeline can help reduce pressure to finish work in a hurry.
GIVE MEANINGFUL WORK
If you find students cheat on homework, they probably lack the vision for how the work is beneficial. It's important to consider the meaningfulness and valuable of the assignment from students' perspectives. They need to see how it is relevant to them.
In my class, I've learned to assign work that cannot be copied. I've never had luck assigning worksheets as homework because even though worksheets have value, it's generally not obvious to teenagers. It's nearly impossible to catch cheating on worksheets that have "right or wrong" answers. That's not to say I don't use worksheets. I do! But. I use them as in-class station, competition, and practice activities, not homework.
So what are examples of more effective and meaningful types of homework to assign?
Ask students to complete a reading assignment and respond in writing.
Have students watch a video clip and answer an oral entrance question.
Require that students contribute to an online discussion post.
Assign them a reflection on the day's lesson in the form of a short project, like a one-pager or a mind map.
As you can see, these options require unique, valuable responses, thereby reducing the opportunity for students to cheat on them. The more open-ended an assignment is, the more invested students need to be to complete it well.
DIFFERENTIATE
Part of giving meaningful work involves accounting for readiness levels. Whenever we can tier assignments or build in choice, the better. A huge cause of cheating is when work is either too easy (and students are bored) or too hard (and they are frustrated). Getting to know our students as learners can help us to provide meaningful differentiation options. Plus, we can ask them!
This is what you need to be able to demonstrate the ability to do. How would you like to show me you can do it?
If students help to choose their own learning path, it's hard to picture them taking a shortcut to reach their goals.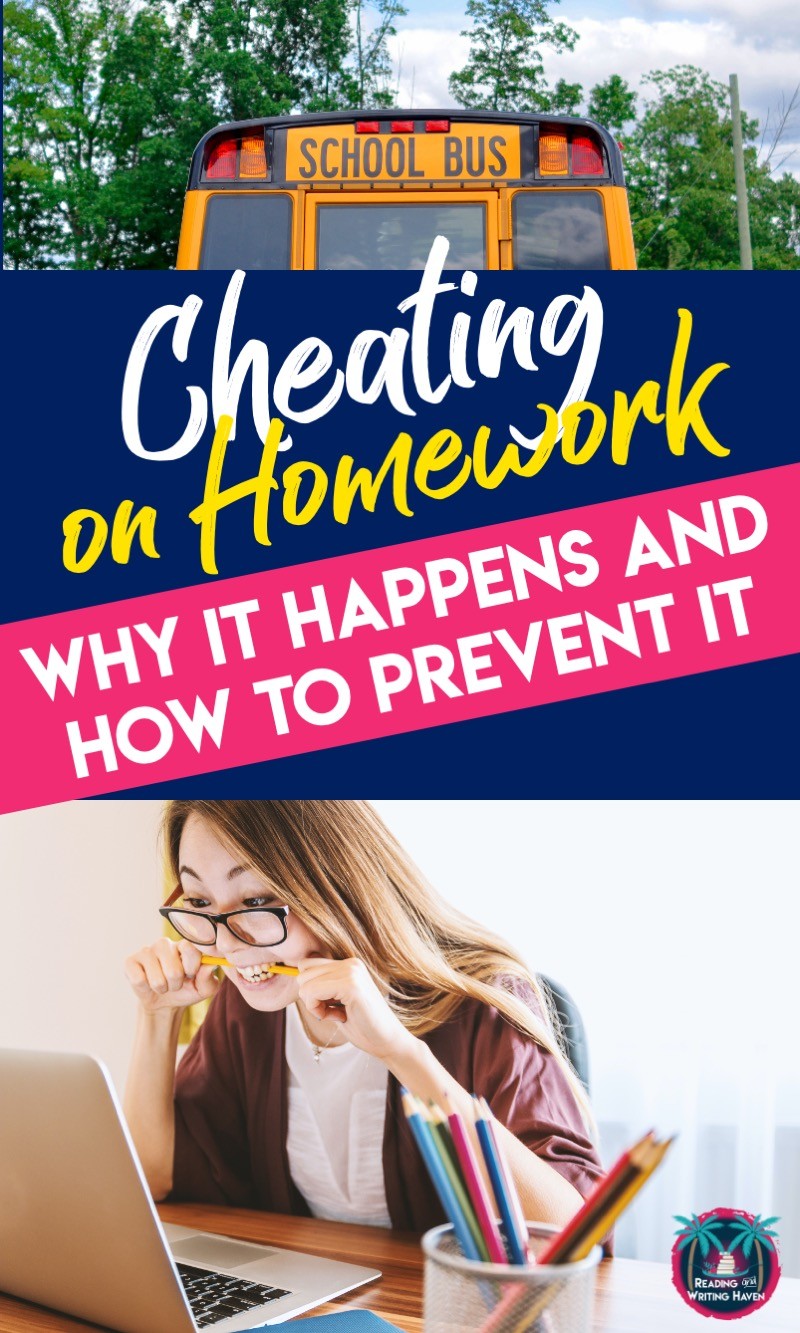 REDUCE THE POINT VALUE
If you're sincerely concerned about students cheating on assignments, consider reducing the point value. Reflect on your grading system.
Are homework grades carrying so much weight that students feel the need to cheat in order to maintain an A? In a standards-based system, will the assignment be a key determining factor in whether or not students are proficient with a skill?
Each teacher has to do what works for him or her. In my classroom, homework is worth the least amount out of any category. If I assign something for which I plan on giving completion credit, the point value is even less than it typically would be. Projects, essays, and formal assessments count for much more.
CREATE AN ETHICAL CULTURE
To some extent, this part is out of educators' hands. Much of the ethical and moral training a student receives comes from home. Still, we can do our best to create a classroom culture in which we continually talk about integrity, responsibility, honor, and the benefits of working hard. What are some specific ways can we do this?
Building Community and Honestly
Talk to students about what it means to cheat on homework. Explain to them that there are different kinds. Many students are unaware, for instance, that the "divide and conquer (you do the first half, I'll do the second half, and then we will trade answers)" is cheating.
As a class, develop expectations and consequences for students who decide to take short cuts.
Decorate your room with motivational quotes that relate to honesty and doing the right thing.
Discuss how making a poor decision doesn't make you a bad person. It is an opportunity to grow.
Share with students that you care about them and their futures. The assignments you give them are intended to prepare them for success.
Offer them many different ways to seek help from you if and when they are confused.
Provide revision opportunities for homework assignments.
Explain that you partner with their parents and that guardians will be notified if cheating occurs.
Explore hypothetical situations. What if you have a late night? Let's pretend you don't get home until after orchestra and Lego practices. You have three hours of homework to do. You know you can call your friend, Bob, who always has his homework done. How do you handle this situation?
EDUCATE ABOUT PLAGIARISM
Many students don't realize that plagiarism applies to more than just essays. At the beginning of the school year, teachers have an energized group of students, fresh off of summer break. I've always found it's easiest to motivate my students at this time. I capitalize on this opportunity by beginning with a plagiarism mini unit.
While much of the information we discuss is about writing, I always make sure my students know that homework can be plagiarized. Speeches can be plagiarized. Videos can be plagiarized. Anything can be plagiarized, and the repercussions for stealing someone else's ideas (even in the form of a simple worksheet) are never worth the time saved by doing so.
In an ideal world, no one would cheat. However, teaching and learning in the 21st century is much different than it was fifty years ago. Cheating? It's increased. Maybe because of the digital age… the differences in morals and values of our culture…  people are busier. Maybe because students don't see how the school work they are completing relates to their lives.
No matter what the root cause, teachers need to be proactive. We need to know why students feel compelled to cheat on homework and what we can do to help them make learning for beneficial. Personally, I don't advocate for completely eliminating homework with older students. To me, it has the potential to teach students many lessons both related to school and life. Still, the "right" answer to this issue will be different for each teacher, depending on her community, students, and culture.
---
READ NEXT: