Decorating high school classrooms can be challenging. When you're trying to find a good balance between meaningful, age-appropriate, and professional, the answer isn't always obvious. Still, it can be done. Keep reading for ideas regarding how to create a positive and inspirational learning environment through your secondary classroom decor.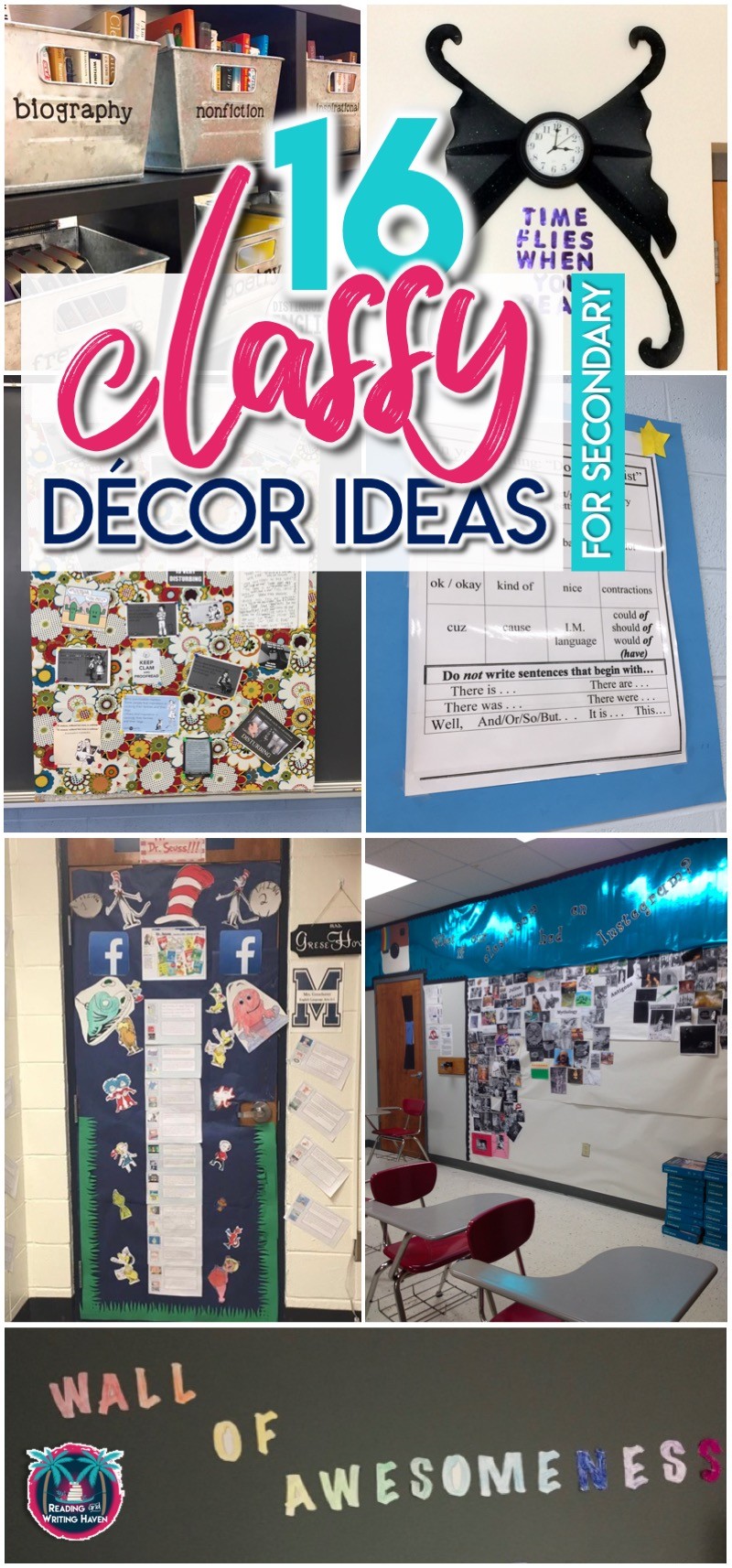 Have you ever tried to live in a house that feels sterile? White walls. No decorations. Just a clock, some concrete blocks, and the required furniture? I can't think of anyone I know who has ever done this. Why? Because it's boring, and uninspiring, and it would make some people downright depressed.
Classrooms are the same way. If not decorated, a secondary classroom can either feel elementary or even homely. Why is it so important to adorn a middle or high school classroom? While it's possible that too much stimulation can negatively impact learning, especially in the older grades, it's also true that decorations can inspire learning, promote creativity, create a positive classroom culture, and foster a feeling of ownership amongst students.
Balance is critical. Each teacher has to decide for his or her own styles, purposes, and curriculums what stylistic elements will work best. For instance, one of my coworkers is minimalistic. She has a few quotes hanging above her white boards, a well-decorated bulletin board that features school events, and a lamp sitting on a pile of books that adds just the perfect homey touch. Me, on the other hand…I like bold, bright colors, posters that feature information students need to know for class, and student-created artwork. There's no one "right" approach.
When it comes to classroom decor for older students, balancing the personality of your classroom community with age-appropriate touches can be tricky. So, let's first take a look at some considerations.
CLASSROOM DECOR CONSIDERATIONS
Finding the perfect classroom decor is a process of trial and error. Before settling on your final choices, you might want to consider:
time (How much time do you have to devote to creating decor?)
cost (Should you make the decorations yourself, or can you afford to splurge?)
longevity (Are you the type who will want to stick with decor for years? Or will you want to switch your options yearly?)
timeliness (You might consider leaving some empty space on your walls or bulletin boards at the beginning of the year if you are planning to add to your decor to coincide with certain units as the year progresses. Not everything needs to be perfect on Day One.)
theme (Is it important to you to create an environment that is thematic where everything relates to a common idea?)
color (Is it possible to paint your classroom? Certain colors are more calming than others (blue, green), while other colors like yellow and orange create a more vibrant, energetic feel.)
learning and teaching styles (If, for instance, your goal is to create a student-centered learning environment, it would be wise to have students largely contribute to the classroom decor.)
quick resources (What information do you want students to access readily? Can you incorporate posters displaying this information? Anchor charts?)
Now, we are ready for some specific inspiration for new secondary classroom decoration ideas! What follows are some of our favorite "classy" decor ideas.
CLASSROOM DECOR IDEAS
1. Galvanized Tins
I found galvanized marquee letters at Hobby Lobby, and got R-E-A-D for the top of my bookcases. They match the galvanized tins I use to organize my books! ~ Olivia from Distinguished English 
2. Furniture & Greenery
Couches and plants. They lend such a homey feel to my room. Kids love coming and feel more comfortable here. ~ Leslie from Story Trekker
When it comes to classroom decor, we can never underestimate the power of soft fabrics and greenery. Plants can fill a corner, add life to a room, and bring color into a space. Teachers can use plants on bookshelves to add texture. If possible, consider hanging plants in corners to add visual interest and draw the eye up.
If you happen to teach in a windowless classroom, I've found hanging Christmas lights and curtains really brightens up the space! (Check your building's fire code restrictions before diving into a project like this.)
3. Fun Clock  
Pinterest can be a curse but it also provides wonderful inspiration for my classroom décor. In several pins, I've seen clever signs and decorations for classroom clocks, so I made one for my classroom that everyone loves. Basically, I took old Halloween costume wings and displayed them on the wall behind the clock. Then I posted letters with the quote, "Time flies when you read." The display and clock are conveniently located by my classroom library! ~ Kim@OCBeachTeacher
4. Student Projects 
My favorite classroom decoration is the larger-than-life sized Macbeth that an AP Art student painted many years ago. We had completed the popular body map activity, but her project was the best I have ever seen in my life, and she donated it to the classroom. She even included a real mirror for Macbeth to glare into, and the reflection that stares back at him is unrecognizable. Brilliant! She went above and beyond. It's a great reminder that when students are able to use their interests and their specific strengths for an assignment, they will rise to the occasion. ~ Meredith from Bespoke ELA 
5. Hanging Lanterns 
I love my hanging lanterns from Oriental Trading! ~ Lauralee from Language Arts Classroom
6. Reading Board 
I have a board that says what book I'm currently reading. The students look at it and it sparks great conversation about books in general. They want to tell me what they're reading, ask me questions about what I'm reading, and the absolute best is when they read books with me. I read "The Fault in Our Stars" and "Me Before You" with a few of my students and we shared all the feels. ~ Amanda from Engaging and Effective 
7. Wall of Awesomeness 
I have a "wall of awesomeness" that starts empty except for the title. Student work slowly fills the wall. Students nominate pieces to go on the wall of awesomeness, and so it becomes a compilation of the best of the best of our class all year long. The students love when their classmates recognize their hard work by nominating a piece for the wall. ~ Doc at Education with DocRunning 
8. Reading Posters
Reading Posters! I use the Big Huge Labs online Motivational Poster Tool to turn photos of students and faculty holding their favorite books into a line of reading posters. ~ Betsy from Spark Creativity
Reading posters are a fabulous way to enhance your classroom's bookish culture. Choose high-interest first lines, why read motivation, or thought-provoking tidbits about reading that will draw students closer to novels.

9. Instagram Wall 
One of my classroom assignments was to have students take or find a picture that a character from what we have been reading would post on Instagram. They have to write the character's caption, as well as an explanation of why they chose what they chose. I had an entire wall covered with white butcher paper, and the top of the wall had the "vintage" instagram logo and the blue banner. As the year progressed, the wall filled up with pictures. ~ Whitney LaDon from The Poetry That Is Life
10. Paper Chain
I got this idea from a family tradition of one of my best college friends. They make a paper chain, with each piece of paper listing something they are thankful for. So, for the week before Thanksgiving break, instead of bellwork, I have my students write a sentence about what they are thankful for on a slip of paper. At the end of each day I add all the slips to a paper chain and hang it from the ceiling. By the end of the week it's usually circling the whole classroom, and is a great visual to show students how much we have to be thankful for. ~ Whitney LaDon from The Poetry That Is Life
11. Writing Resource Posters 
I display this overused / tired / informal word list in my classroom and computer labs among other places so that students can easily access them during the revising and editing process. You can access the class assignment I created to accompany this poster as well as a free and updated copy of the list here. ~ Melissa from The Reading & Writing Haven
12. Mementos from Mentors
I have a gold-painted plaster bust of William Shakespeare that was passed down to me from my cooperating teacher during student teaching. It had sat in his classroom for years and he was retiring, so gave it to me at the end of the year. I love it, and Bill (of Billy Shakes, if you prefer) is particularly special to me since it came from one of mentors. ~ Rebecca Gettelman
13. Digital Student Work Displays 
My favorite classroom decoration is posting student's work, especially things they have created digitally. These look so good when printed in color. This picture depicts how students decorated my door after creating their digital Facebook profiles for Dr. Seuss characters.~ Lyndsey from Lit with Lyns
14. Stars
I found some really pretty stars that hang above my SmartTV from TJ Maxx right after New Year's Eve. I love them! ~ Doc Cop
15. Student-Created Bulletin Boards
My funny grammar memes bulletin board is my favorite…not because it's extremely fancy or artistic, but because of the conversation it creates and the effectiveness of helping students understand the implications of poor grammar. At the beginning of the year, I tell students to keep their eyes open for humorous grammar fails, memes, and other material they can contribute to our class board. I show them examples I enjoy as well as a few from previous years, and I make sure to preface their opportunity to earn extra credit with a clause about "appropriateness" in content. Students LOVE this board. They talk about it all year and enjoy watching new cartoons and images pop up periodically. ~ Melissa from The Reading & Writing Haven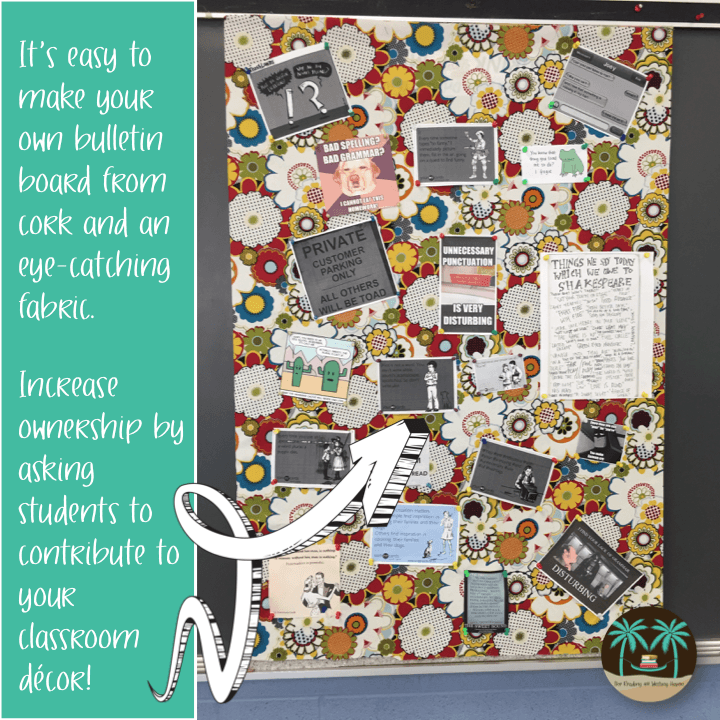 16. Celebrity Memes
I framed a picture of Tim Gunn and wrote "Make It Work!" in a speech bubble. He gives me strength. ~ Laugh & Learn with Lindsay
Whether you are a brand new teacher, one who is looking for fresh ideas to add to your existing collection, or someone who is ready for a complete overhaul, we hope you've found some practical and meaningful ideas here. Do you have favorite classroom decor that might inspire other teachers and students? Tell us about them in the comments. We want to hear from you!
This post is Part 3 in a collaborative series that features inspirational articles for teachers. Click here to read the first article in the sequence.
---
This post is the third part of an inspirational collaborative series for teachers. The entire series includes: